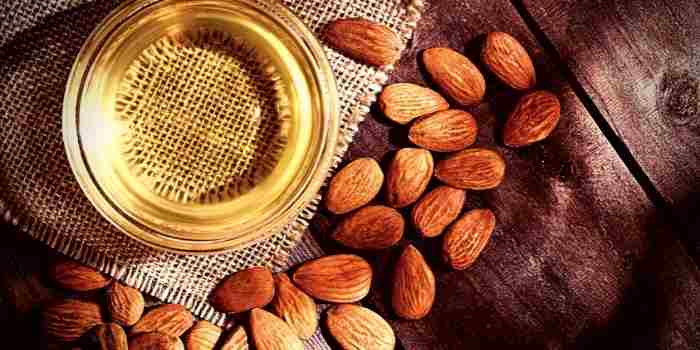 Almond oil makes a beautiful addition to a vegan or vegetarian diet. It is also popular in the cosmetics and food industry because it comes in two different flavors: sweet (often used for cooking) and bitter (often used in cosmetics).
Almond oil is derived from the almond fruit and is a popular form of natural skincare. Almond oil can be used on dry and sensitive skin because it is rich in lipids, minerals, and vitamins; it is a highly hydrating and emollient product.
Most people are familiar with sweet almond oil, which is ideal for treating dry and sensitive skin because it is highly hydrating and emollient. It is high in lipids, minerals, and vitamins and ideal for massage.
Almond oilcontains oleic and linoleic acids. Linoleic acid also helps treat acne and specific dermatitis, like seborrheic eczema, reducing inflammation.
Almond oil is a simple, organic beauty treatment used as an all-in-one moisturizer, hair conditioner, and makeup remover. It's packaged with vitamins A and E. The almond oil contains oleic and linoleic acids, which help treat acne and specific dermatitis-like seborrheic eczema by reducing inflammation.
Almond oil: ingredients and effects
For the best result, choose cold-pressed almond oils.
Why?
Cold pressing is used to produce almond oil from ripe almond seeds. It is odorless and tasteless.
Nourish your skin with sweet almond oil, whether in a warm bath, as a facial moisturizer, or on its own. This is because of the ingredients:
Vitamins and minerals
Almond oil is a plant-based oil that is often used on the skin. It contains various nutrients such as vitamins A, E, B, and D, which are known for their benefits to the skin. It also has minerals like potassium, magnesium, and calcium, which help improve skin health.
Vitamin E, in particular, helps the skin hold on to moisture better, making it look firmer and plumper.
Vitamin E also helps protect against oxidative stress because vitamin E fights free radicals.
Fatty acids
Almond oil contains many unsaturated fatty acids. They get deep into the skin and make it soft and supple.
Linoleic acid strengthens the skin's resistance to infections and protects it from UV rays. It also provides the skin with moisture and counteracts skin irritation.
Palmitic acid, an unsaturated fatty acid, ensures that the oil penetrates the skin well. This supports the moisturizing and smoothing effect.
Which lmond oil is best for hair?
Only use sweet almond oil that is cold-pressed and unrefined from organic cultivation for skin and hair. The manufacturing method is gentler, preserving the vital elements.
Primarily, Sweet almond oil is used for skincare. Bitter almond oil is one of the essential oils. Therefore, it irritates the skin and mucous membranes and is not suitable for skincare.
Who Can Use Almond Oil?
Almond oil is used to treat the skin of the face and body, and hair.
For example, almond oil is shown in the case of :
Dry skin;
Skin irritations;
Bath for children;
Prevention of stretch marks;
Anti-cellulite massages;
Relaxing massages.
It is also high in antioxidants, vitamins E and B, phytosterols, and other anti-aging compounds.
Almond Oil For The Skin
Effect:
Almond oil is abundant in unsaturated fatty acids, especially oleic acid. Saturated fatty acids are comparable to skin lipids, which helps the skin absorb them. Oleic acid has the benefit of penetrating deep into the skin and improving suppleness. Palmitic acid, found in the skin's protective acid layer, helps it. Also, linoleic acid protects and moisturizes your skin. Linoleic acid is also anti-inflammatory and soothes skin irritation.
Vitamin E (tocopherol) protects the skin's collagen from free radicals that might otherwise cause cell death.
Vitamin B also boosts cell growth and helps regenerate damaged skin.
Almond oil nourishes and moisturizes our skin, making it smooth and preventing dryness and wrinkles.
Vitamin E is a fat-soluble antioxidant that helps protect cells throughout the body. For skin health, almond oil is high in vitamin E, like olive oils.
Did you know almond oil originated from ancient Persia?
Almond Oil For Hair
Effect:
Almond oil moisturizes hair and scalp, preventing split ends and dandruff.
Almond oil contains fatty acids that build a protective barrier around your hair, protecting it from harmful environmental forces.
Vitamins A, B, D, and E are contained in the oil, including magnesium, calcium, and potassium. Those vitamins are good for hair.
Vitamin B7 and E are beneficial for the hair.
Why is almond oil good for the nail?
Almond oil can treat dry and brittle nails by protecting them with a layer of fatty acids. These oils can also combat the effects of environmental toxins that can affect your nails.
is almond oil good for weight loss
Almonds are that is high in calorie and fat content. However, almond oil is a healthy alternative. Almonds have been shown to reduce hunger and contain antioxidants that may lower the risk of cardiovascular disease. Almond fat also has been shown to help lower cholesterol levels.
What oils strengthen nails?
For overall health nails, zinc is critical. However, extra virgin olive oil is good for nails. Besides, you can try coconut oils or other nut oils to see what is working. Yet, overall health, zinc deficiency causes nail problems.
Alternative Oils For Face/Skin
You can combine these oils with almond oils too.
However, there are many other great natural ingredients you could use instead:
Aloe vera gel – This natural anti-inflammatory is helpful for burnt skin. Stretch marks and wrinkles are reduced as well. It is anti-aging and reduces pigmentation.
Cocoa butter – One of the most popular natural moisturizing ingredients, cocoa butter, is extracted from the cocoa bean. It has an impressively long history of use for its moisturizing properties. Studies have found that it may also help protect skin from sun damage. This hydrating butter is ideal for dry skin. It absorbs rapidly and helps skin feel soft. It can also help fade scars and is perfect for sensitive skin.
Coconut oil –Coconut oil has several benefits for your skin, including antioxidants and vitamins that hydrate your skin. It also possesses anti-aging fatty acids. It can also help stretch marks.
Olive oil – Olive oil is another beautiful vitamin E moisturizer. It can also help fade scars—the perfect shaving cream substitute.
Application: As a hair therapy, you can distribute the oil in the hair and on the scalp and let it soak in for 15 to 20 minutes. Then wash it off with a mild shampoo. For the oil to help with an irritated and flaky scalp, you need to use it every week.
Olive Oil vs. Almond Oil?
Both almond and olive oils are good for dry skin. But Almond oil absorbs faster. Moreover, for food intake, olive oil is better to choose. Olive oils suitable for most foods are more antioxidants and valuable for your ketogenic diet. But for hair or nail, you can use almond oil. For health consumption, olive oil is far better.
Can you drink almond oil?
Sweet almond oil is pressed from raw almonds. It's a light-colored, nutty oil with a slightly sweet flavor that's good for salads and cooking. The fatty acid content of sweet almond oil is similar to olive oil, and it contains vitamins A and E.